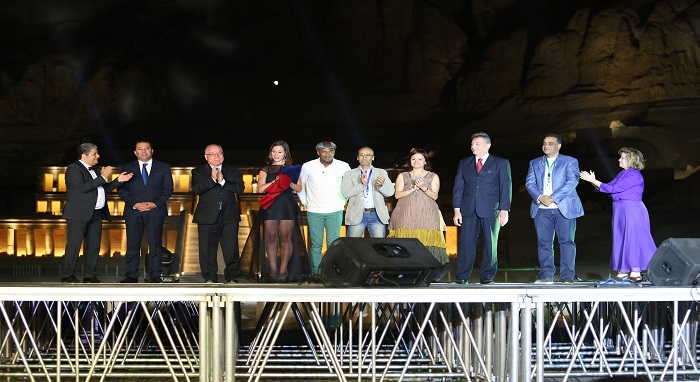 The opening of the fifth edition of Luxor African film festival culture from African countries
The opening of the fifth edition of Luxor African film festival in the presence of three ministers of culture from African countries
The festival honors Menna Shalabi and Justin Kaboré
the opening film "Nawara" screening was postponed due to bad weather conditions


few hours ago , the opening ceremony of the Luxor African Film Festival ended at the glorious Temple of Hatshepsut, their excellencies the ministers of culture, the Egyptian minister Helmy El-Namnam , Maurice Bandman Minister of Culture and Francophonie of Ivory Coast and Minister of Culture Sudanese Saeed Haroon, plus number of African ambassadors and artists, attended the festival opening ceremony. Also many Egyptian stars were passionate to attend the ceremony, including Mahmoud hemeida , Farouq Al Fishawi , Elham Shaheen , Hala Sidqi , Dora , Menna Shalabi , Ahmed Abdel Aziz , Fathi Abdul Wahab , Manal Salama , Tamer Diaaei , Amir Salah al-Din , filmmaker Omar Abdel Aziz , director Magdi Ahmed Ali and director Amr Abdeen.

The opening began with the voice of the artist Salwa Mohammed Ali in the Arabic language and an interpreter for the French language by Hala El-Mawy entitled "Hatshepsut welcomes her grandchildren". Then Dr. Manal Mohey el-Din presented number of music tracks on Her Pharaonic Harp. After that, players of the band "Dajarobikan" from Ivory Coast played many popular musical tracks from Ivory Coast. Next, the folkloric dancing Egyptian troupe Reda presented many dancing tableau including "Luxor our country" & the song (Hatshepsut) by Mohammed El-Ezabi from the archive of Reda famous troupe
The Egyptian TV Presenter Dina Zahraa introduced the ceremony, and welcomed the attendees of ministers, ambassadors and artists, called Morris Bandman Minister of Culture and the Francophonie of Ivory Coast to deliver a speech. He said:" We are delighted to cooperate with Luxor African Film Festival as the city of Luxor is a large open-air museum". The Minister of Culture also mentioned that there are two films in the festival from the Ivory Coast and the band that played, expressed their heritage of Ivory Coast. He also considered festival as an important step to continue a long road of corporation and prosperity
After introducing the fifth edition jury, the festival honored the Senegalese filmmaker Safy Faye, director Justin Kaboré and the superstar Menna Shalabi. The festival also made tributes for the name of the great Ivorian director Henri Dubarc, his wife received the tribute. Also the Moroccan film critic Mustafa Almesnawy was honored and Mr. Abdul Haq Mantrch president of Rabat Festival received the tribute and the superstar Elham Shahin received the tribute of the late star Omar Sharif.
at the end, the crew of the Opening film Nawara went up on stage to pick up a souvenir photo despite the postpone of the film screening due to circumstances beyond the control of the festival's administration related to bad weather.